The Autumnal Equinox...
The last day of summer was here before you could say 4/3. For you non surfers, I am referring to the 4/3 Fall wetsuit. In fact, the last day of summer was just that, very summer like. And yours truly went surfing in just my trunks, and a rash guard. It was that warm.

I was never one for buying into the concept that summer ends on Labor Day. The 21st is the last day. Officially that is. Because if you were around today (Sunday September 22nd) it felt like summer to me. And to those of you who paddled out into the waist high surf.

I will say, that this last week of summer, was full of awful and bizarre news stories. Both nationally and locally. The shooting on Monday at the DC Navy shipyard, followed by the gang related shooting in Chicago, was just terrible to see. It's so true about the simple fact about evil living in this world. It does. It really does.

It hides undetected among us, like a virus, and then without warning, it springs itself on the unsuspecting world, in the most violent and shocking ways.

We have almost become numb to it. In fact, I'm sure we have.

The frequency to these mass shootings is so common in our lives that it hardly raises an eyebrow anymore. I don't get it. I'm sure there must be reasons why it happens more and more. But the mere fact, that we all have accepted it as part of our overall culture, is to me, frightening. And none more so, than the victims who deal with it first hand. And of course, the loss that the loved ones who were left behind have to deal with.

But again, we become numb to their pain and grief as well.

And as immune to the national news we have become, we local seacoast residents here in New Hampshire, had two stories that sent shock waves through our community. On Friday September 20th, 2013 Hampton police found two male bodies floating in the Hampton river. Instantly, people started freaking out.

Who were they? How did they die? We all wanted to know. I mean, Hampton and the surrounding seacoast towns, are a small, tight knit group. We all know each other.

It was a tense day and night, for this small section of our world.

And just as we were all reeling from that news, another big story hit. The very next day, Saturday September 21st, 2013, the last day of summer. Two cyclists were killed while participating in a bike race at 8:30 in the morning. A young local woman hit a group of cyclists while they were riding over the Neil Underwood bridge. She killed two of the women, and sent 3-4 others to the hospital.

The irony is, the two women who died, were actually on the bridge that spans the Hampton River. The same river, where the two men died in the day before. How is that possible?

We had two men drown in the Hampton River on Friday? And two women die over the Hampton River on Saturday? Look, I'm not making this stuff up. I do know that there was a full moon, and while it's hard to blame anything like this on another planet, it is at the very least ironic.

This town has been quiet all summer. To have four strange deaths occur in two days? I don't know. I honestly don't know. What I do know is, there are four sets of families and hundreds of friends who are in mourning right now over these untimely passing's.

And the young woman who was driving the vehicle who killed the two women? I can't imagine what her family is going through. Because I do not know the details of either case, I will not comment. That's for you guys at the water cooler, and the coffee shops. And the surfers to talk about in between sharing waves.

I do know, that someone is at fault in both cases.

There has been rumors about texting while driving and passing another vehicle. Both of those warrant some kind of punishment. We all deal with cyclists here on the seacoast. And there are pros and cons to both sides. Some motorists say that the cyclists do not adhere to the same laws and rules of the road as they do. While the bikers say the opposite.

Regardless of who's right and who's wrong, we still need to be aware of what is going on while driving and riding a bike. I do both. I drive my vehicle and I ride my bike. I do not think I own the road. I take every precaution when driving and riding.

My guess is, there are changes coming. If it turns out the motorist involved, was at fault by "texting" then I am all for cracking down on cell phone use while driving. Unless, it's hands free, there's NO excuse to be driving and texting. None. Zero. If you do it (and you know who you are), you need to stop.

My fear is this will fall on deaf ears. It's already too late. Your bad habits are in place, and there's no turning back. The cell phone is a wonderful tool to have, but boy, can it ever mess you up.

Don't drive and text. Don't engage in a conversation and text. In fact, why don't you try not texting for a whole day. Or a whole night. Try it. You will go through texting withdrawals, and you may get the shakes. But you will eventually kick the habit. And think of how much better you will feel about yourself.

Maybe I'll start a 12 step Texting Program. "Hello, my name is Ralph, and I'm a texter..." HELLO RALPH.

What do you think? Nah...I know what the cure for texting is for me.

All I need to do is, go surfing.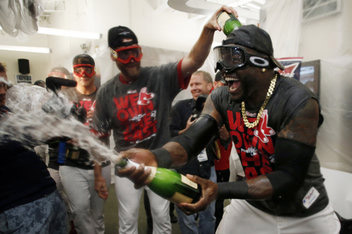 So is it too late to jump on the Red Sox band wagon? I told you all a couple of weeks ago that I am a fair weather Red Sox fan. Well, the weather has changed. I am now into the team. Is there room on the band wagon? Please. What if I grow a beard? Look, I'm hoping they win this thing straight out. I'm a New England Sports fan. But only fanatical about the Patriots and to some extent, the Bruins. But I clearly want the Sox and Celtics to win too!

Now for Some Of My Weekly Global Observances:

Lots going on in the Middle East. Syrian president sat down and spoke with several news networks this week. And it does appear that Assad wants to play ball with us. He does seem to want peace. He says he is turning in all of his chemical weapons. And Russian president Putin is backing him up.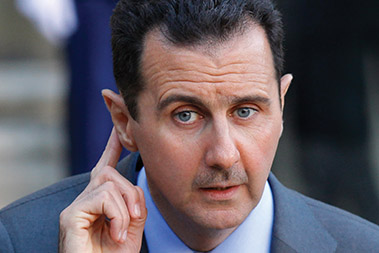 OK so can we trust him? Look at his face. Do you trust him?

And as if on cue the new president of Iran claims he too wants peace with the rest of the world? Really? You know if you were to have slipped into a coma and woke after a couple of years, you would of thought this was another planet. And look, there's nothing I want more than world peace. If no other human being died a violent death in this whole big wide world, I would be as happy as the happiest liberal on the planet. I think we all would.

But history tells us something else. Still, I am willing to give these peaceful gestures a chance. We all should. I just remember what happened to the US in the movie "When Mars Attacks!" I think of president Jack Nicholson, when he pleaded with the Martians "Can't we all just get along?"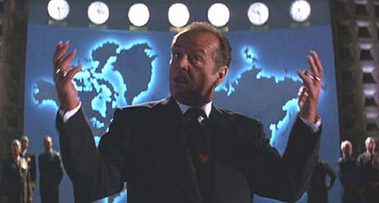 I'm hoping for better results than Jack got.

Please all you Duck Dynasty fans forgive me. But I saw this opportunity and had to run with it. KSM is still an evil son of a bitch who was the mastermind behind September 11th, 2001. And the Duck Dynasty guys are all good men. But I couldn't pass this up. It's all about beards this week. The Sox and this.

As always, let's take a minute and enjoy the weekly humiliation of the mastermind terrorist who killed 3,000 innocent civilians on September 11th, 2001.





* Note to self. Must pick up some Duck Calls at Home Depot.

ANNOUNCEMENTS:
HAPPY BIRTHDAY Jack Keefe September 21st, 2013!
HAPPY BIRTHDAY Sam Nevins September 21, 2013!
HAPPY BIRTHDAY Victor Capozzi September 21st, 2013!
HAPPY BIRTHDAY Mat Evans September 23, 2013!
HAPPY BIRTHDAY "Patch" 3 yrs old September 23, 2013!
HAPPY BIRTHDAY Lester Priday September 30, 2013!
CONGRATS to Mike and Allie Paugh on their Wedding 9-20-13!
GoodBye Summer 2013 Hello Fall 2013!

Please Support ALL The photographers who contribute to Ralph's Pic Of The Week every week for the last 9 years. **Think about BUYING a HIGH RES Photo from any of the weeks on RPOTW.

Keep in mind the photos you steal from this site are low RES. You can't blow them up. Order HIGH RES photos that are suitable for framing. It's a GREAT Gift Idea. A nice framed photo of your favorite Surfer or Surf Break!
Remember my friends... Surfing Heals All Wounds.
Pray for Surf. Pray for Peace. Surf For Fun.

Ralph